Eating rice while you are half asleep!
The 4am siblings feast
Eating rice at four in the morning is one of the quirky things the Bride has to do on her chinese wedding day.
The bride will eat an early breakfast of rice, fish, meat and vegetables with her whole family.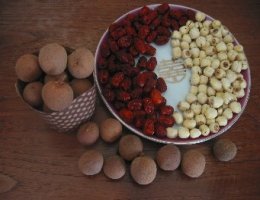 A sweet dessert cooked with lotus seeds Á«×Ó, red dates ºìÔæ, dried longan ÁúÑÛ, dried magnolia petals °ÙºÏ , etc wishing the bride a sweet married life is also served.
For the teochew, this meal symbolizes the even distribution of the family's prosperity. This is the official farewell meal, so only good things and well wishes are mentioned at the table.
The bride's parents may advise her on her new role as wife and daughter-in-law. In some family, the bride may serve her parents farewell tea.
Tear ducts tend to be overly active on wedding day. Crying at this emotionally charged meal may help to get some of the emotional stress out of the way.
---
Homepage