Where to buy things for the chinese wedding betrothal and dowry.
Some of our readers wanted to know where to buy the things needed for their chinese wedding dowry and betrothal.
Here is a list of the shops my family have used for our weddings supplies or just to satisfy our sweet craving.
Unfortunately, this is not a complete list! I will try to add to the list when I have the opportunity to visit them again for their goodies, *ahem* contact. I am reminded of the crispy roast pig! *yum yum*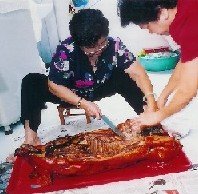 If you know where to buy some of these stuff or have a good supplier you can click here to share with us.
If you use any of the chinese wedding supplier here and become either very pleased or very disgusted with their service, tell us too!
So here they are (drum roll...)


---
Wedding cakes and pastry
Our all time favourite, they have the best tau sa pia (green been paste pastry)!
Ng Kim Lee Confectionery
4 Chun Tin Road
Singapore 599591
Tel : +65 6466 3515

They will also lend you wedding baskets needed for betrothal.
They have been in the business for more than 40 years and are very experienced with chinese wedding requirements for different dialect groups although I suspect they specialise in Hokkien and Teochew custom.
(If you see gibberish below, you need to set your browser encoding to read Chinese Simplified GB2312)

Dragon and pheonix candles Áú·ïÖò are also available from them.
You can also get them to help prepare the 3 traditional letters ÈýÊé needed

to formalise the engagement ƸÊé ,
to list the betrothal gift items ÀñÊé ,
to invite the bride onto the bridal car Ó­Ç×Êé.
---
The other cake and pastry shop we frequent for their teochew pastry is Gin Thye Cake Maker, also an experienced supplier.
Gin Thye Cake Maker


152 Bukit Batok Street 11 #01-264
Singapore 650152
Tel: +65 6899 6929


423 Sembawang Road
Singapore 758392
Tel: +65 6257 1566

Gin Thye provide free usage of chinese wedding baskets. Other than Teochew and Hokkien wedding pastry, they also supply Cantonese Wedding pastry.


---
Tong Heng specialises in cantonese wedding pastries and has outlets all over Singapore. Call them for the nearest branch. Wedding pastries are packed as six pieces or eight pieces a box and you can pick and choose from a variety of pastries.
Tong Heng
Tel: +65 6223 3649

---
Recommended by our readers:
Rate: Very good! Highly recommended!


Shirley C said on 15 Oct 2006:

"Very friendly service from them. Have tried their wedding cakes, look nice & taste nice too!"

Sign-up at their website to get a discount voucher (up to 20%) for Wedding gift sets!

When your marriage is productive and you need to distribute full-month cake for your new-born, you can also get discount for full month gift-set here.


---
Chinese Wedding betrothal and dowry suppliers
There are many in Singapore if you know where to find them. Usually they depend on word of mouth for business referrals.
Since I grew up in the Bukit Timah area, I was familiar with wedding betrothal and dowry shops in Beauty World area. Traditionally they would also sell bed linens, towels, home linens such as table cloth and pyjamas, so I would go with Mum to shop with them. Most of the older suppliers have retired. The ones listed below are "newer" suppliers.
My favorite shop is not in Beauty World, Bukit Timah though, it's in Jurong West near Rulang and Shuqun Primary Schools!


---
Cheok Keuw is a joy to visit! It is like a mini antique shop! You would be tempted to get some cute colourful wooden clogs even if you are not getting married! The shop lady dresses up the simple red plastic bedside lamps with such small ribbons it makes them look so exquiste. The lady is also knowledgeable in chinese wedding customs as well as various Taoist requirements for wedding rituals.
Cheok Keuw Bridal Co
Blk 506 Jurong West St 52
#01-180
Singapore 640506
Tel: +65 6566 0311

---
Sin Chye Departmental Store mainly sells handicraft supplies in addition to selling wedding goods. The shop lady is friendly and helpful.
Sin Chye Departmental Store
#01-K3 Beauty World Centre
Upper Bukit Timah Road, Singapore 588177
Tel: +65 6469 4653

---
Minah Departmental specialise in chinese wedding goods. When I enquire in Dec 05, they have wedding baskets for rental at $120 per set for a medium sized three tier basket. The lady who served me wasn't very friendly but their range of goods are rather adequate. They also supply dragon and phoenix candles Áú·ïÖò.
---
Recommended by our readers:
Fu Yuan The Wedding Shop
32 New Market Road Food Center
#02-1198 / #02-1158
Singapore


Beside Chinatown OG
Rated : Very good! Highly recommended!

Cindy had her betrothal (Guo Da Li) in Jul 2008 and raved about their excellent service! She said Fu Yuan sell lots of traditional wedding goodies. She had the dowry set with free delivery!

Here's Cindy own words on 30 Jul 08:

"Hi, Just had my GDL 2 weeks back. I went to this wedding shop at Chinatown ( New Market Road ). They sell lots of traditional wedding goodies. I got the dowry set with free delivery. Service is Excellent !! "

Also on 08 Jan 2008, Heather said:

"The staff are very kind and polite, unlike some who are very snobbish. They briefed me through my whole wedding and I even called late at night due to my forgetfulness.

They are reliable and they have many exquisite wedding stuff. I like their accessories very much! :)"


Golden Happiness
Katong Shopping Centre
865 Mountbatten Road, #B1-122
Singapore 437844
Tel: 91716463/63456988

Rated : Very good! Highly recommended! On 16 May 2011, Jason wrote to tell me about how Golden Happiness went the extra mile to help him out during his wedding recently!
Here's Jason's words

"Extremely pleasant husband and wife team, knowledgeable and very friendly. One of the best priced suppliers in Singapore, highly recommended.

My wife forgotten to buy the red umbrella and the worse part is, it is already 12+am in the morning! She smsed Eyvon(which she replied 5 mins later) and appeared at my door step with the umbrella at around 2am.
"
Wow! I am impressed! No wonder Jason said he is very sure nobody can beat Golden Happiness service in Singapore!


---
Homepage | Timeline/Program | Wedding invitations | Betrothal | Dowry