5 things you should know about Chinese Wedding traditions and customs!


1. Do not take off your shoes until your chinese wedding ceremony is over.
2. The bride and groom will first enter the groom's family home under the pants of the groom's unmarried elder brother.
3. Parents are served tea before grandparents at the chinese wedding tea ceremony.
4. The bride must change clothes before her home visit to symbolize the passage of 3 days.
5. A whole roast pig with tail is given to the bride's family at the bride's home visit to declare that she was a virgin before marriage.
---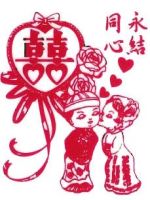 So you are having your chinese wedding soon?
You are having your chinese wedding soon and everyone start telling you bits and pieces of chinese wedding customs and traditions.
Some sound like they are just pulling your leg and some are just downright silly. You are not sure which you want to believe and follow, and which to chuck out.
May be your Mum is not very convincing either, she is probably calling up all her friends and relatives to check with them what to do.
---
Confused about what to do?
Well... it was just as confusing and amusing during my wedding, my brothers' wedding and my cousins' weddings.
Are we losing our chinese heritage and culture? I have 2 little kids and I would like them to be able to appreciate and enjoy their heritage when it is time for their weddings. So this is my little contribution to preserving our chinese wedding culture.
---
Hey! Don't worry, I know something about chinese wedding traditions!
I have decided to put down all that I know of chinese wedding as my effort in helping to preserve some chinese heritage and culture. I have interviewed my mum, mum-in-law, aunts and relatives, researched at museums, read books and trawled the web for chinese wedding traditions and customs, and their significance.
I blended these with the practical aspect of organising a chinese wedding, such as the recommended timeframe, the items and persons needed to perform the various ceremonies and rituals.
And then *drum roll...* "www.chinese-wedding-guide.com" was born May 2005.
www.Chinese-Wedding-Guide.com has been around for more than 6 years now. I have been able to keep up the efforts due to the kind response and encouragement from the brides and grooms, and sometimes their parents and friends. I have been most encouraged that some of you continue to write to me after your weddings, telling me how you are getting on.
Do continue to write, although having gone back to a fulltime job which keeps me very busy but happy, my response might not be as prompt as I would like to be. Be patient with me.:-)
I am also encouraged that students are able to use the information here for their projects and research on culture. Do let me know when you want to use some of my stuff, remember to credit my website as your reference.
For those who are new to my website, you will find
among others!
Keep scrolling down for the full list!
Hopefully you will find them helpful to you while you are planning your chinese wedding.
---
Remember to have fun!
Have fun organizing your chinese wedding and you can contact me if you have any comments, queries or just to bounce some chinese wedding ideas!
Sincerely,
Jina
---
Timeline/Program | Wedding invitations | Site-Blog
---
Here's what some of our brides and grooms and other users say about this website!
Thank you! Your comments gave me the motivation to maintain the website!
2 Nov 2011

Thank you very much. Your website is really informative, it answered all the questions in my head.


I am a Filipino bride who's getting married this Sunday to a Malaysian Chinese. I only know a FEW details on what could actually happen on a traditional Chinese wedding. And after reading your site, I'm now confident and somewhat prepared on what to expect.


God speed!



Sheree, Malaysia"
---
2 June 2011

I just wanted to thank you for putting this site together. I'm a Chinese American raised here in the US, and my mother is from Taiwan. She is very traditional whereas I am more modern.


I'm getting married soon and there has been a lot of conflict between my mom and I because I felt like she was forcing a lot of things that I don't understand.


Your site helped me to understand a lot of the things she is saying. I am not opposed to my Chinese heritage, but I do wish to understand it so that it is meaningful to me.


I just wanted to pass along my thanks to let you know that there are people who can use it as a good resource.


Keep up the good work!


Jack, USA"
---
5 Nov 2010

This home page is very interesting, I read every article, every tip, it is very useful and complete...
I will marry the next year and I am planning to make it by the chinese tradition.
I was born in Costa Rica but my parents are from Macau and Mainland China so I had some doubts about how to get marry by the chinese tradition...now I understand the chinese wedding better.
I've been in chinese weddings but it's not the same when one lives in a foreign country and nobody knows how it works.

Sanchez, Costa Rica"
---
10 Feb 10

"Hi Jina, I just wanted to say that I just did a report on Chinese Weddings for class and your website was extremely helpful.
It's so hard to find a reliable website that's easy to understand, but yours is perfect!

Thanks alot!
Kara, America"
---
2 Dec 2009

"Your website taught me how to read the Chinese Calendar and it really helped alot.

Heah, Singapore"
---
14 January 2009

"Your website is a very good source for information about chinese wedding; a lot of information I could not find on other wedding websites.

This is Great! I really appreciate your help. Thank you very much for your suggestions.



Have a great day.
Tiff, Australia"
---
26 December 2008

"Hi, I'm preparing my wedding next year, so google and found this page.

Just thought of dropping a note to say, "I think you are doing a wonderful job!!!"

Will definitely be back here to check on stuff :)

Thank u!
Jamie"
---
22 December 2008

"Your website is very informative.

Now I understand what is "Bride's home visit" and the details of Chinese wedding customs. Most importantly, the rationale behind each custom/protocol.

My wedding day is coming soon and I am planning the day's activities. Your website certainly helps a lot.

Cheers,
Huei Huei"
---
21 June 2007

"Many thanks for providing so much important information on the wedding preparations!!

I have little knowledge on the chinese wedding customs & as I am the first in the family to married off, my mum has no idea on the traditional stuff too.

Cheryl, Singapore"
---
10 Aug 2006

"Definitely super informative for me. Thank God who guided me to this website. I knew nuts about the chinese wedding traditions but your website gave me a very good overview of what I need to do.

More importantly, my mother-in-law to be will be so impressed by me after doing all these homework!

This is awesome stuff!

James, Singapore"
---
26 May 2006

"Hi, I would like to say "Thank You So Much" for sharing your knowledge and research on the internet.

You have provided a good overview of the things that modern brides and grooms need to know, but often have difficulties confirming, even with relatives and friends.

I was originally worried that I would have to make do without a lot of traditional and cultural practices for my own wedding, because my mother passed away a few years back, and my mother-in-law is also rather 'lost'.

The information you have at the website will help us all navigate this tricky, yet oh-so-exciting, business of preparing for a wedding. Thank you so much again! I look forward to visiting the shops you mentioned. =) Thanks!

Roanne, Singapore."
---
18 Aug 2005

"Your articles on the chinese wedding guide are very well researched and written. A great job for Chinese communities. Could serve as reference for current and next generation Chinese.

I would like to seek your permission to publish in the souvenir program for Malaysian Terengganu Hokkien Association 60th anniversary dinner.

Regards,
Lua Yik Hor,
Committee Member 2005-2008,
Terengganu Hokkien Huay Kuan,
Editor, The 60th annivesary souvenir program. "
---
Here's what I have on this website, very briefly...
He has proposed! You're going to get married! The timeline for the chinese wedding begins. Find out when to do what?
The chinese wedding day program is a useful tool to ensure that your schedule and auspicious timings are observed. Include remarks for special items and unique tasks by various parties.
Fetch the bride, the groom's quest for the day. The challenges he must overcome before he can kiss the bride.
Will you enter the groom's home under his brother's pants?
Traditional chinese wedding ceremony - heaven and earth shall witness your marriage.
The chinese wedding tea ceremony- kneel or stand while serving tea, the order of service and other related etiquette.
Bride's home visit - when and what you need to bring and do.
A lantern parade, lantern riddles and mooncakes as wedding favors at your Mid-autumn Chinese Wedding banquet.
What do chinese wedding games have to do with banana, cherries and raw egg?
Need to buy chinese wedding dowry and chinese wedding pastry and cakes for betrothal? Find out where to go here.
Exchanging the betrothal gifts of 2 bottles of brandy for 2 bottles of orange syrup is a good deal for the groom. Why, because he gets to keep the bride, of course! :-)
The list for the chinese dowry seems to get longer and longer; when will mum finish buying whatever she needed to give you? What is the baby bathtub and potty doing in your dowry?
Are you wearing the wedding veil or phoenix crown at your chinese wedding ceremony?
Don't take off your wedding shoes on your chinese wedding day! Read about wedding shoes in ancient China.
Here's what the bride and grooms are saying about our website, www.chinese-wedding-guide.com on our testimonial page!
Everything you need to know about chinese wedding from writing your chinese wedding invitations to selecting the auspicious dates.
Auspicious dates are required for three important chinese wedding events. Are you getting married in the dark?
You really don't want any mistakes on your chinese wedding invitation. AND you are not sure what to amend using the wording from your friend's chinese wedding invitation? Read on...
Chinese wedding taboos you should know to ensure a blissful wedding.
If you have any comments or request regarding this site, do contact me.