Bridesmaids and bestmen
– how many is too many?
The more bridesmaids and bestmen the merrier! The bridesmaids are also called 阿姨 "ah yee" which is the term used to address the wife's sister. Some couple has as many as up to a dozen bridesmaids and bestmen. That's why we call them brothers' and sisters' troop兄弟团姐妹团. Some prefer to match the number of bridesmaids against bestmen.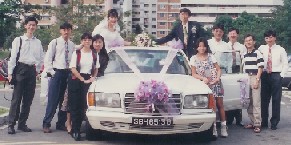 The number you invite depends on how many close friends you have and how much you are willing to spend. You and the parents on both sides will have to give red packets to all the helpers at your chinese wedding. This is in addition to any other token gifts that you may want to give. Red packets are given as good luck charms to ensure the helpers have good fortunes.
If you are going for a fully coordinated look and provide jackets, gown, dresses and accessories, professional make-up, handheld bouquets, etc, the bill could get quite hefty.
While having a big party can be fun, it can also result in logistical confusion if you have a tight wedding program to maintain.
Instead of having a big group of bridesmaids and bestmen throughout the day consider having smaller groups. Have them help out at different events, one group for the chinese wedding ceremony, another group for the church wedding or wedding solemnization, and another for helping out at the wedding banquet.
---
Married or unmarried bridesmaids and bestmen?
In ancient China, rich family might provide young single maids as part of a bride's dowry. The young maids would serve their mistress in the groom's family.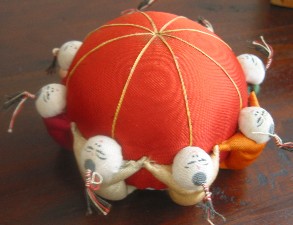 If the couple was unable to conceive after years of marriage, the bride might preserve her position in the family by getting her maid to bear children for her husband on her behalf. The concubine was presumably loyal to the bride and would not vie with her for the husband's attention.
Hence, the sisters' troop was traditionally restricted to unmarried girls. As people are getting married at an older age, most of their sisters or good friends are already married.
As it becomes more difficult to just restrict the sisters' troop to unmarried friends, married ladies are also invited as bridesmaids these days.
Check with your parents just in case they prefer to hang on to some tradition on this issue.
"Brothers" of the groom traditionally helped to ensure a smooth and safe journey from the groom's home to the fetch the bride and back. Therefore, it does not matter if they were married or not.
The more superstitious chinese will check the chinese horoscope of their bridesmaid and bestmen to ensure that there is no clashes on the auspicious chinese wedding date.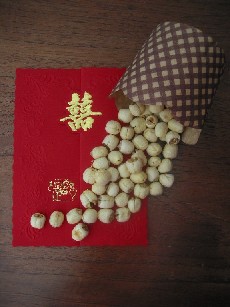 Those whose chinese horoscope clashes with your auspicious day can only join the party after the bride and groom entered the bridal room. Otherwise, they can be bridesmaids and bestmen for the church wedding or wedding solemnization or wedding banquet.
Brothers, sisters, cousins, friends, colleagues and neighbors are all good choices for bridesmaids and bestmen.
Traditionally the bride would have bridesmaids and the groom bestmen. However, times have progressed and the bride's and groom's inner circle of friends may comprise of just as many males and females.
Don't feel that you have to restrict yourselves to invite friends of your same sex as your bridesmaid and bestmen. Think of it as the bride with her own brides-men and the groom, best-maids.
Otherwise just get all your girlfriends to start off at the bride's side and the boyfriends to start off at the groom's.
---
So what will your merry band do for you?
Plan out the roles of the bridesmaids and bestmen, then inform them and get their agreement in advance. Prepare a
program of the day
with the responsibilities of each person clearly stated. Distribute this program a week before the wedding.
You will be wise to ask one each of your most organized and capable friends to be the bride's and groom's personal assistants for the day. These two will be responsible for coordinating the wedding day's actual events with the parents and sundries.
Preferably these two should know each other quite well and can get along with each other. You will not want any conflicts on your big day. Being your assistants are taxing roles and they will probably be more exhausted than you on your wedding day. Remember to return the favor when it is their wedding day.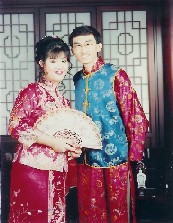 Having these two capable assistants ensure that you will look calm, composed and happy in your wedding day photographs and video. It is easier to smile when you are not disturbed by the mundane logistical details of maintaining the wedding day program.
Have a short briefing with all the bridesmaids and bestmen a few days before the wedding. Alternatively, you can go through the program during the bridal shower, hen or stag party. Just make sure your groom remember to brief his bestmen on their responsibilities before they get into the full swing of their stag party.
---
Homepage | Timeline/Program | Wedding invitations | Fetch the bride